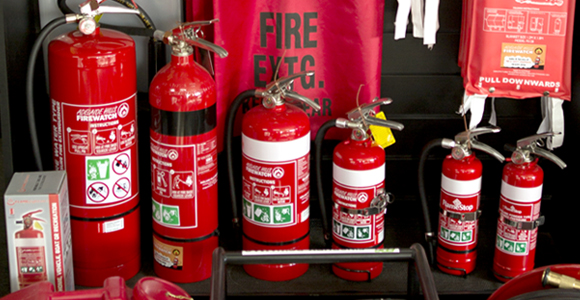 Know your Fire Extinguishers
Know your fire extinguishers
Do you know which type of fire extinguisher to reach for in an emergency?
A fire extinguisher is the first line of defence when a fire starts in the home, office, workplace, caravan or industrial site. But with six different types of fire extinguishers for different types of fires it's easy to become confused.
The SA Metropolitan Fire Service has prepared this easy-to-follow guide to which fire extinguisher to use for which fire.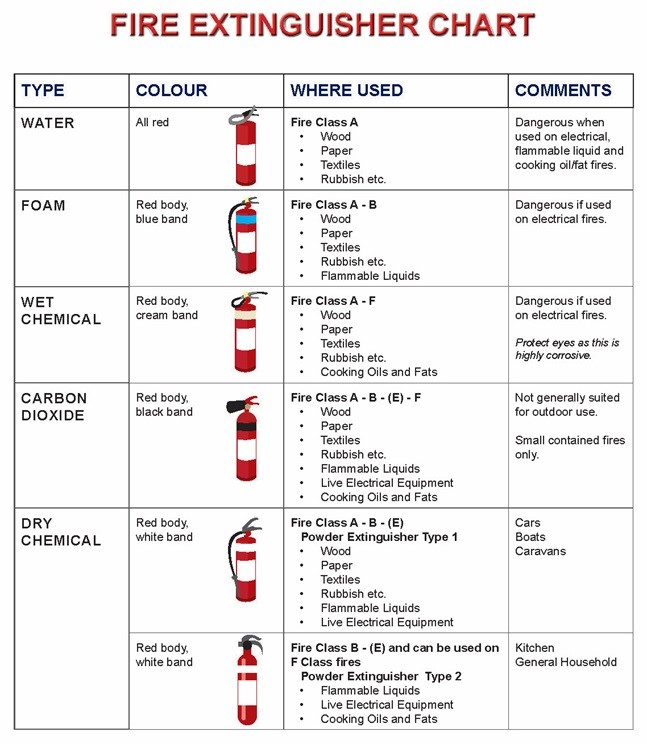 There is not one fire extinguisher solution for one business or residential situation, and many businesses will find they need at least two different types of extinguishers, and more than one of each of those extinguisher types.
The most typical fire extinguisher types are Water, Dry Chemical or Carbon Dioxide (CO2), for general waste, electrical and flammable liquid fires. Dry Chemical and Carbon Dioxide extinguishers can be used for the same types of fires – but be aware Dry Chemical is a fine powder that leaves lots of mess to clean up later compared to the C02 extinguisher which emits a fine gas.
Businesses are required by law to install and regularly maintain fire extinguishers and signage on the premises.
We've compiled a quick guide to the fire extinguishers that best suit your business type (but, as always, contact us for more information for your individual fire prevention needs):
Home
A fire blanket can be your go-to for fire safety in the kitchen of a home, but a dry chemical fire extinguisher is best for live electrical equipment and flammable liquid or oil fires.
Office
For a typical office set up with computers, phones, papers and a small kitchen you will need TWO types of fire extinguishers:
Dry Chemical or Carbon Dioxide – live electrical equipment
Water – paper, rubbish etc
Hair salon
A hair salon relies on electrical equipment like hair dryers, straighteners and heaters and will often have a small kitchen with a fridge and kettle, and some general waste. A hair salon will likely need TWO types of fire extinguishers:
Dry Chemical or Carbon Dioxide – live electrical equipment
Water – paper, rubbish etc
Lawn mower business
From fuel supplies to electrical equipment, general waste and machinery, there's a mix of potential fire hazards. A lawn mower business may need TWO or more types of fire extinguishers:
Dry chemical/Carbon Dioxide – petrol/fuel and live electrical equipment
Water (for businesses located in country fire region it is a requirement by law to have a water extinguisher)– paper, rubbish etc
Restaurant
A restaurant kitchen is a hazardous place with oil vats, gas stove tops, electrical equipment and general waste. A restaurant would consider the following types of fire extinguishers in the kitchen area:
Dry chemical/Carbon Dioxide – cooking oils and fats and live electrical equipment
Water – paper, rubbish etc
Car/boat/caravan/farm machinery
A Dry Chemical extinguisher is the most typical for a car, boat, caravan or tractor, and a water extinguisher and fire blanket can offer that extra level of protection. A Carbon Dioxide extinguisher could be an alternative but is not generally suited to outdoor use because it's a fine gas that would be subject to elements such as wind.
For more information about farm machinery safety, we recommend the CFS website resource section.
Factory/industry
Each factory has its own unique fire hazards so it is recommended you contact a professional, such as Firewatch for a complete on-site assessment.
If you aren't sure which fire extinguisher to is right for your situation, contact our friendly team for advice over the phone or we can come to you.
Firewatch sell, test, maintain and provide in-store and on-site training in the use of fire extinguishers and the type of extinguisher to use for different fires.
We are also the only licenced CO2 testing station in the for CO2 fire extinguishers…and brewing bottles!
We test, repair, refurbish, refill and certify pressure vessels of CO2.