Firewatch SA mobile fleet
Our mobile fleet of specially fitted vehicles are really mobile workshops designed to help our highly trained team of technicians carry out all service and maintenance of your fire protection equipment without the need to return to our base. We carry a full range of extinguishers, spares and other fire protection equipment along with first aid supplies. Our technicians also have live access to, and can update, any relevant information about your site and equipment. We cover the entire state of South Australia.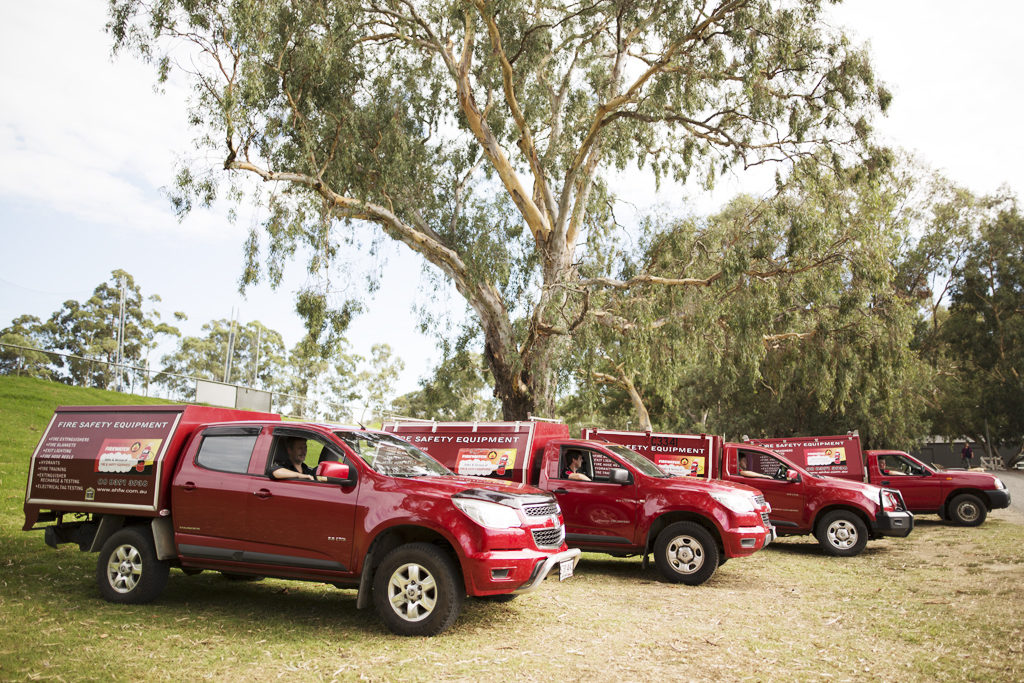 Proudly South Australian
Imagine the devastating effects of a fire on your business and not being able to do anything about it — especially if you have incompatible, out of date, non-compliant, damaged or even empty firefighting equipment. And if you do have it, what's even worse is not knowing how to use it. Fortunately, Firewatch SA can ensure this never happens to you, your employees and your business.
Firewatch SA is a mobile fire protection and maintenance business that has provided sales and installation, maintenance, training, refilling and pressure testing since 2004.
Proudly owned and operated by Murray Dolan and Ally Woolcock in the Adelaide Hills, Firewatch SA provides on-site servicing of fire protection and safety equipment right across South Australia and across a diverse range of industries including commercial, industrial, rural, and mining, plus small business.
Take a look around your office. Chances are there is at least some kind of portable equipment available in the unfortunate event of a fire — like fire extinguishers, fire hose reels, exit lighting, sprinklers, fire alarms, lay flat hoses and fire blankets. Now, do you know how old it is and when, or even if, it was last serviced? Did you also know that as a business owner, the onus is on you to be fully fire safety compliant?
Firewatch SA will ensure your business is properly set up for scheduled maintenance compliance programs for all your portable fire equipment. We have a team of experienced, mobile technicians to test all your equipment in accordance with Australian standards. Plus, our rigorous routine maintenance program means your equipment is serviced on time, and with certification of inspections. What's even better is our fully-equipped fleet of service vehicles come to you to pressure test and solve your fire equipment issues on-site, tailored to your industry, location or need. Most importantly though, we'll make sure you and your staff know how to use all the equipment we service and maintain.
We're sticklers for high standards and expectations in customer service, so servicing all your equipment is in accordance with current Australian Standards and is designed for regular preventative maintenance. And don't worry if you forget to schedule routine maintenance because we won't. We'll send you reminders when it's due.
To complete the Firewatch SA picture, our services also extend to servicing and supply of First Aid Kits, Hazardous Spill Kits, Electrical Testing and Tagging, Essential Safety Clothing and Protective Footwear and much more.
Our pricing is very competitive, and we're able to quote on a one-to-one basis. So, give us an opportunity to quote in inspection, because our current clients often tell us we're cheaper!